Biggleswade Community Web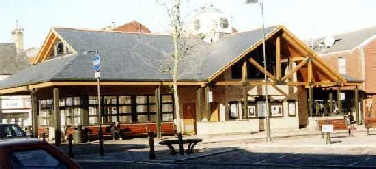 Over the years Biggleswade Market Square has provided a focal point for the town. It has hosted everything from horse fairs to political rallies, carnivals and Royal events. Despite changes many of the landmarks of yesteryear remain
On 27th September 1998, after 18 months of building work.The redesigned town centre was officially opened and has remained largely unchanged since.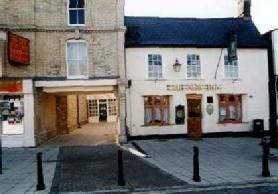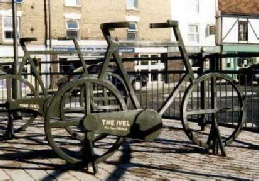 These striking sculptures double as cycle racks. The Ivel safety bicycle was invented in Bigglswade by Dan Albone. It held nearly every world record during the early years of the Safety Bike.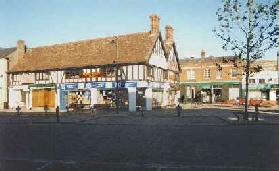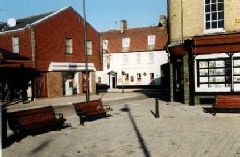 The centre of the square is used for the regular Saturday general market. On special occasions there is plenty of room for activities and entertainment. Marked bays provide short stay parking close to the popular shops and eleven plane trees provide interest and shade
The Crown Hotel, visible in the background, was where the Great Fire of Biggleswade started in 1785.
Dan Albone, engineer and inventor lived from 1860 - 1906. He also invented the Ivel farm tractor and became known nationally as the town's most famous son. His company traded from premises at Number 3 Market Square.
The Market House, now converted into shops, was originally used for livestock storage and as a market administration building. It was built in 1565. When the High Street was widened in 1937 it was substantially rebuilt but the original 16th century roof was preserved.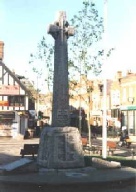 The War Memorial, erected in 1921, was dedicated to the memory of those who died in the 1914-1918 Great War. Names of the townsfolk who died in the Second World War were added on scrolls adjacent to the cross.It has been on its present site since 1997.
Every Year it is the scene of the Remembrance Day Service which follows a parade through the town by bands and uniformed organisations.